Online Access
Furry Migration 2021 is over!
You can view what we previously did for 2021 to get your ready for 2022!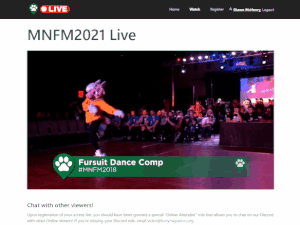 Want the virtual access experience for Furry Migration? With Online Access tier, you get access to a livestream and discord panel access!
Livestream Access of events

Main Stage Events
DJ Sets
Selection of panels

Realtime Discord Interaction with panels

Special Discord Role to channels
The livestream and schedule of streamed events can be accessed at live.furrymigration.org.
Purchasing Online Access
If you're not attending Furry Migration, you can purchase Online Access at any time. Please note: Purchasing online access doesn't grant you physical access to the convention.
Upgrading Existing Attendee
If you already have a Regular, Sponsor or Super Sponsor badge, you can gain access as part of your registration. This must be requested and isn't proactively extended to attendees.
If you want access, please email video@furrymigration.org with the following information:
Email used for registration
Discord Username
Upgrading is a manual process on our end, so please allow up to 12 hours for your request to be fulfilled.