Dealer's Den
Extra money burning a hole in your pocket? Wanting to take something home to remember your time with us or see what our creative community members are up to? Then stop by the Dealer's Den!
Furry Migration 2021 is over!
You can view what we previously did for 2021 to get your ready for 2022!
Current Dealers
This is our current dealer map and listing of dealers. We reserve the right to update this at any time.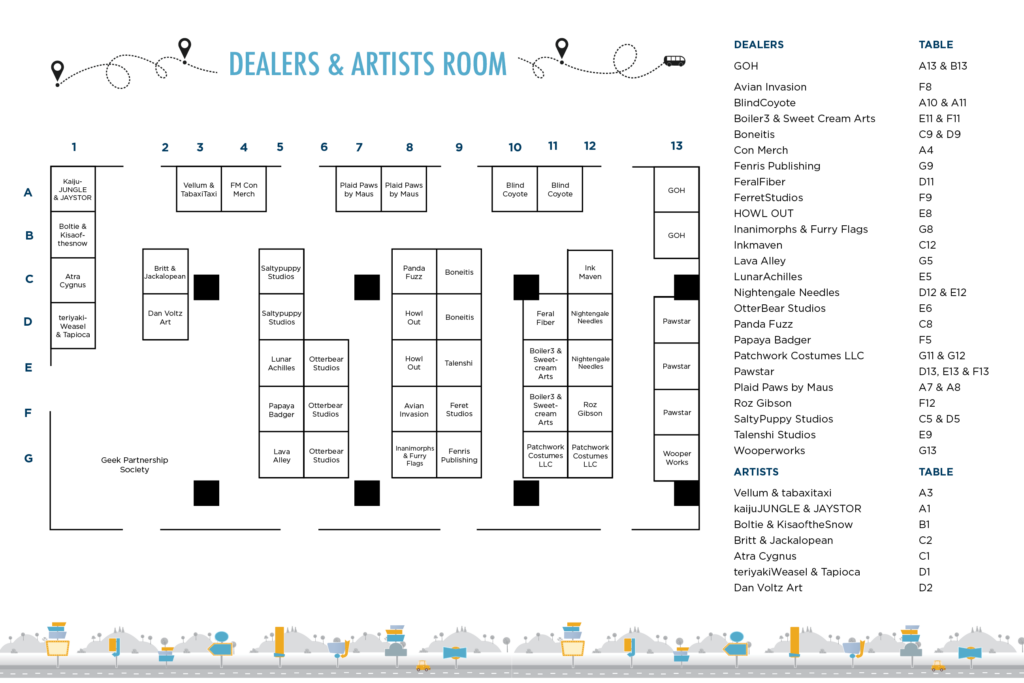 Dealers
Avian Invasion
BlindCoyote
Boiler3 & Sweet Cream Arts
Boneitis
Con Merch
Fenris Publishing
FeralFiber
FerretStudios
GOHs
HOWL OUT
Inanimorphs & Furry Flags
Inkmaven
Lava Alley
LunarAchilles
Nightengale Needles
OtterBear Studios
Panda Fuzz
Papaya Badger
Patchwork Costumes LLC
Pawstar
Plaid Paws by Maus
Roz Gibson
SaltyPuppy Studios
Talenshi Studios
Wooperworks
Assigned Artists
Atra Cygnus
Boltie
Britt
Dan Voltz Art
Jackalopean
JAYSTOR
kaijuJUNGLE
KisaoftheSnow
tabaxitaxi
Tapioca
teriyakiWeasel
Vellum
Additional rules and polices
The full rules and policies of dealers den are provided here. These are in additional to the Furry Migration Code of Conduct and are expected to be followed at the convention.
Link to Minnesota ST-19: Form ST-19
If you have any questions regarding the Dealer's Den, please contact us and we will get back to you as soon as possible.

We are currently reviewing submissions and will be notifying accepted dealers soon. If you have not already applied, you may still fill out the form to be added to our waiting list.