Share Your Experience: Furry Migration 2023 Survey Awaits!
Tuesday, September 12, 2023
---
Your Voice Matters: Help Us Make Furry Migration 2024 Even Better!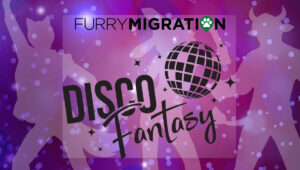 Furry Migration 2023 has come to a close, and what an adventure it was! From the vibrant Artist Alley to the engaging panels, electrifying MainStage events, cozy ConSuite, our wonderful hotel venue, impactful charity initiatives, and exciting gaming sessions, we hope you had a memorable experience.
We're committed to making each year better than the last, and your insights are crucial for that. That's why we've created this comprehensive survey. We invite you to take just 15 minutes to share your thoughts on all these aspects and more. Your constructive feedback is invaluable for enhancing future events, and rest assured, we do make changes based on what we hear from you.
If you haven't yet completed the Artist Alley Survey, we encourage you to do so. Both surveys will remain open until Sunday, September 24th, 2023.
Thank you for taking the time to share your insights. We're excited to take your feedback to heart as we plan for Furry Migration 2024!