Wrapping Up Furry Migration 2023: A Standing Ovation to All!
Wednesday, September 13, 2023
---
Celebrating Our Community, Guests, and Team—Plus What's Next!
Gratitude Takes Center Stage 🌟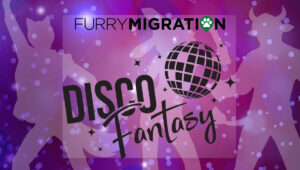 Wow, what a ride Furry Migration 2023 has been! We can't thank our Guests of Honor, Pocket Wolf and Gale Frostbane, enough for their incredible contributions to this year's event.
We also owe a big shoutout to our DJs, panelists, and special room party hosts for keeping the Disco Fantasy alive. And let's not forget our charity initiative with Wildlife Rehabilitation and Release—a resounding success!
---
A Round of Applause for Our Team 👏
Our dedicated staff and volunteers deserve a standing ovation. Without their year-long effort and the countless hours they put in during the convention, Furry Migration 2023 simply wouldn't have been possible.
---
Thank You, Attendees! 🎉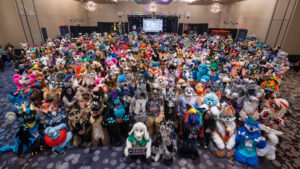 We're thrilled to announce that we had 1,789 attendees and 435 participants in our Fursuit Parade. You all made this year's Disco Fantasy a reality!

---
We Want to Hear from You! 📝
Your voice matters! We invite you to share your thoughts by completing our Furry Migration 2023 Survey. The survey is open until September 24th, 2023, and all responses are anonymous.
---
Early Bird Gets the Worm 🐦
Ready for the next adventure? Secure your spot for Furry Migration 2024 at our special early bird rate, available until September 17th, 2023. Learn More.
---
Calling All Artists and Attendees 🎨
We made some exciting changes to Artist Alley this year and we'd love to hear your feedback. This survey is separate from the main one, and we encourage you to fill out both. The Artist Alley Survey also closes on September 24th, 2023. Take the Artist Alley Survey.
---
Save the Date! 🗓️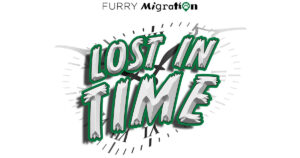 Mark your calendars for Furry Migration 2024: Lost In Time, happening from September 6th-8th! We're expanding to the first and second floors of the Hyatt Regency Minneapolis for even more furry fun. Stay tuned!

---
Upcoming MNFurs Events: Keep the Furry Fun Going!
Hey there, fellow furries! Think the fun stops when Furry Migration ends? Think again! Our parent organization, Minnesota Furs (you might know them as MNFurs), keeps the good times rolling all year long. Curious? Check out their website for the full scoop.
🍂 Save the Date: 2023 MNFurs Fall Picnic 🍂
Sure, we've got other awesome events before this, but we're super excited about our next major gathering—the MNFurs Fall Picnic on October 1st, 2023. It's a potluck for all ages, so bring your favorite dish and let's make it a feast to remember!
❄️ Looking Forward: MidWinter Frolic 2024 ❄️
Love camping? So do we! That's why we're hosting MidWinter Frolic at the scenic Whitewater State Park come winter 2024. Want to know more? Here's all the info you need.
📅 Stay in the Loop 📅
Our events calendar is always buzzing with new additions. Keep an eye on it so you won't miss out on any of the fun!
We can't wait to see you at the MNFurs Fall Picnic and all the other fantastic events we've got lined up. See you there!
---