OFFER IS OVER – Furry Migration Limited Time Jersey Offer!
Friday, July 19, 2019
---
We know when people think about games and sports we think about sports jerseys.
---
Update
Offer is over sorry if you couldn't make it in time. Otherwise please pick up your Jersey at the merchandise booth Friday of the convention.
---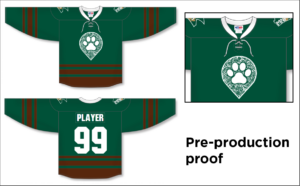 Furry Migration is doing a very limited run of a hockey sports jersey for this year's convention. The art for this year's Jersey is designed by Foxfeather, one of our first Guest of Honors from 2014. It is currently in the finalization stage and is now ready to be ordered!
All Jerseys can be customized with your own name and number on the back. The name can be up to 14 characters and the number is up to two digits. You can't do more but you can do less! Before you ask yes spaces do count as a character and no emojis!
Our pre-order starting price is $125. All preorders will be printed, patched, and ready at the convention for pick up at the merchandise booth. We will have a limited number of Furry Migration pre-printed with generic name and number at the booth also.
You have till July 26th to order the Jersey by adding it on to your registration! This is a separate add on separate from Sponsor/Super Sponsor level, so if you want it you must add it to your registration.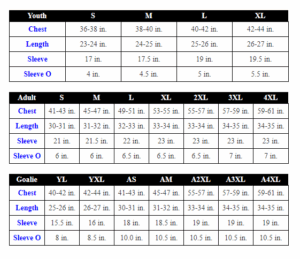 So, to preorder your Jersey, follow one of these two methods.
If you have not registered already, just simply add it onto your registration when preregistering.
OR, if you have already registered you can still add it on. Just go to https://furrymigration.account.webconnex.com, log into your registration order, and modify your current registration to add the Jersey.
Because these are custom printed items, there are no refunds. Once you order it's ordered. Please check the size chart for your size before ordering. Larger sizes may incur an additional cost which will be stated when you select the size.
Also sorry, at this time we will not be shipping this Jersey and it's for only convention attendees only.
We can't wait to see you at the Furry Migration 2019, The Championship, I hope to see you there!
Kurst Hyperyote
Convention Chairperson for 2019 Furry Migration!