"After Dark" Dealer's Den
Extra money burning a hole in your pocket? Wanting to take something home to remember your time with us or see what our creative community members are up to? Then stop by the Dealer's Den!
"After Dark"Current Dealers
This is our current "After Dark" dealer map and listing of dealers for Furry Migration 2022. We reserve the right to update this at any time.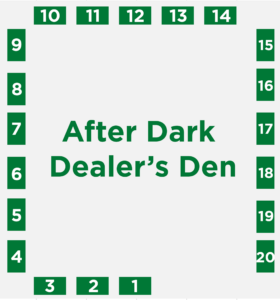 Dealers Sorted By Name
BrattyMommy's Littlespace Shop
6
Kemono Doujinshi Imports
15
SpoopySamuel's Spicy Space
8
Dealers Sorted By Table
6
BrattyMommy's Littlespace Shop
8
SpoopySamuel's Spicy Space
15
Kemono Doujinshi Imports