Thank you for coming!
Sunday, August 30, 2015
---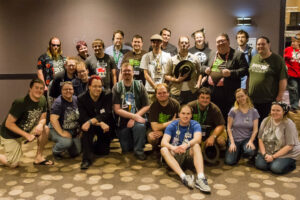 The Furry Migration staff would like to thank everyone who joined us at the Hyatt Regency this year. Without your support this convention wouldn't have been as wonderful.
However, there are a few people we'd like to extend special thanks to for joining us:
First, we want to thank our current guests of honor: Reed Waller, Amber "Vantid" Hill, and Ken Fletcher. As well as our returning guests of honor: Kyell Gold, Foxfeather R. Zenkoa, and  Jeffrey Eddy. They are wonderful people that bring us interesting stories and history from our past, and encourage us to progress forward to do bigger and better things.
Next, we'd also like to thank our volunteers. It doesn't matter if you volunteered a single hour badging or almost as many hours as our staff. Without you we, the staff, would have gone sleepless, hungry, and would be drooling on the floor on Sunday night (not suggesting that some of us aren't still, but we'd be worse!).
As well as we need to thank Geek Partnership Society, Anime Detour and CONvergence for all of their expertise, hardware, personnel, and space.
And lastly, we'd like to thank the Hyatt Regency Minneapolis for their truly wonderful staff and space. They have worked with us and even anticipating some of our needs. And we hope that with their partnership that 2016 can been even better.
Speaking of 2016… We have a new journey ahead of us, and this quest will have many pitfalls, some romantic, new friendships, and parting of old friends, but in the end we will be acquiring the shiny! The moment where we find something that is of value to us. Not just gold, silver, or jewelry but of friendship and shared common interest and enjoyment. So come join us September 9th through the 11th, 2016 for "Search for Shiny!"